Harvey Mudd College | Physics Department | Faculty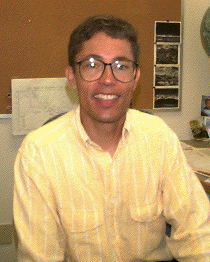 Gregory A. Lyzenga
How to reach me:
conventional mail:
Gregory A. Lyzenga
Department of Physics
Harvey Mudd College
301 E. 12th St.
Claremont, CA 91711-5990
E-mail: lyzenga@thuban.ac.hmc.edu
Office / Lab: Keck 241 / Parsons 155
Office Phone: (909) 621 - 8378
Department Phone: (909) 621 - 8024
Fax: (909) 621 - 8887
Feel free to scroll down the page or select one of the options from the menu below.
| Daily Schedule | Research Interests | Courses I'm Teaching | Biographical | News and Misc. |

| Back to HMC Physics Faculty | Back to HMC Physics Home Page |

Fall 1997 Schedule
This link will display my schedule. Mondays through Thursdays I am happy to talk any time I'm not in classes or meetings. On Fridays, usually I will be found at Jet Propulsion Laboratory (JPL); if you need to reach me, feel free to contact me by e-mail, or try my JPL phone number, (818) 354-6920.

My Fall 1997 Schedule
Return to top.

Research Interests
I have a number of active areas of research in which students can participate and contribute. The following link leads to a description of current and recent work in geophysics. Although the projects listed are fairly specific, if you are interested in a related topic but that's not mentioned here, be sure to talk with me. I'm always glad to hear of new ideas and support them if I can!
Description of Research Topics and Projects

Courses I'm Teaching...
Physics 51 -- Electromagnetic Theory and Optics

Physics 193 -- Physics Clinic
---
Return to top.

Biographical Info
Gregory A. Lyzenga

B.S. 1975 , Physics

M.S. 1977,
Ph.D.1980 California Institute of Technology, Applied Physics (Geophysics)

For more information on my history and publications, consult my curriculum vitae.
Curriculum Vitae for Greg Lyzenga
Return to top.

News and Miscellaneous Info
Comet Hale-Bopp Pictures
While enjoying my sabbatical year, I've had the chance to indulge my hobby of amateur astronomy. For your viewing pleasure, here are a few of my recent images of Comet Hale-Bopp. Hope you like them!
Seismo Web Page
Check out the HMC Seismo Lab Web page. It features online display of current seismometer data and information on past earthquakes. It's easier than walking down to Parsons to check out the latest shake!
---
Return to top.
---
Last updated 10/21/97.